free clinic
Jill Ginsberg, MD, and the North by Northeast Community Health Center
Published 2/24/08 (revised 11/14/20) © 2008 Marilyn Fonseca
Photos courtesy of North by Northeast Clinic
Like people all over the US, many residents of Oregon lack medical insurance. They often skimp on or skip entirely the medication they need, and they use the emergency room when their symptoms can no longer be ignored.
Fortunately for the people in north and northeast Portland, Oregon, Dr. Jill Ginsberg is motivated by her faith and inspired by her mentors to serve the uninsured and underserved.
Beginnings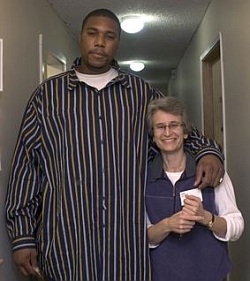 Dr. Ginsberg began her medical career in California, receiving a degree from the University of California, San Francisco School of Medicine and training at San Francisco General Hospital, a public inner city hospital serving a largely poor and immigrant population. As a resident at a community health center in the Hunter's Point neighborhood, one of the city's poorest, she met an "amazing" nurse practitioner, Martha Ryan. Once a week after work, Martha visited homeless shelters, offering basic prenatal advice and care to pregnant women. Her project is now the nationally recognized Homeless Prenatal Program and she continues to inspire and mentor Dr. Ginsberg.
After completing her medical training in 1989, Dr. Ginsberg moved to the Olympic Peninsula with her family, working for the Indian Health Service and in a small coastal town clinic. Together with nurse practitioner Sue Shane, she started a once-monthly free clinic for migrant farm workers from Mexico in Forks, Washington. Sue Shane encouraged Dr. Ginsberg to use her skills to provide a service to a community in need.
Eventually Dr. Ginsberg settled in Portland and began to work for Kaiser Permanente as a family physician in 1994. Dr. Ginsberg continued to follow her passion for social justice by working with the Portland Jobs with Justice Workers' Rights Board and serving on the Board of Directors and as Social Action chair of Congregation Beth Israel in Portland.
At this point, Dr. Ginsberg may have settled into her routine as a family physician, seeing patients with colds and the flu. But fate set a different course for her, as she was going to meet another woman who would inspire her and set a new direction for her life's work.
Results of a Hurricane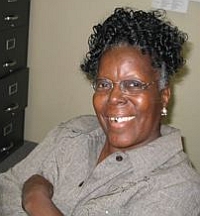 When Hurricane Katrina hit New Orleans and the surrounding areas in August 2005, Pastor Mary Overstreet Smith sprang into action. She sent a van to Mississippi -- her birthplace -- for those willing to move to Portland, Oregon, her home for over 30 years. When some of the hurricane survivors needed medical care and medications, Pastor Mary discovered that there was no free clinic in her North Portland neighborhood. As she talked with her neighbors and church members, she found that many had no health coverage, even those who worked full time. Pastor Mary knew that a free clinic was needed, with evening hours to allow access for working people. Hearing about the way Pastor Mary took action to help the hurricane survivors motivated Dr. Ginsberg to offer her assistance.
"Here is somebody that just saw what needed to be done and did it. And I was so moved by that and I wanted to talk to her," Dr. Ginsberg said, "and I wanted to help in some way if I could."
Dr. Ginsberg offered to meet with some of the people Pastor Mary had brought from the Gulf Coast to help problem-solve their medical needs, but Pastor Mary had not yet taken her up on the offer. So when Dr. Ginsberg met Pastor Mary at the Powerhouse Temple Church, to drop off some donations, she didn't foresee what would happen next.
Pastor Mary asked for her help in starting a free medical clinic in a small office building she owned. Dr. Ginsberg could not think of a reason to say no.
Dr. Ginsberg set about the task of opening the clinic: she applied for grants, filed for tax exempt status, brought on staff, all new endeavors to this physician. As a result of these labors the North by Northeast Community Health Center opened its doors in August 2006, with Dr. Ginsberg as its medical director.
A Clinic is Born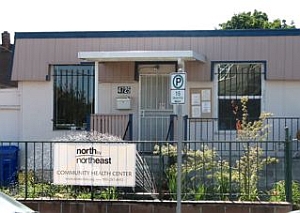 The North by Northeast building is small, nondescript. The unassuming exterior belies the life-saving work going on inside. This clinic has been serving the uninsured in this Portland neighborhood for almost two years now, with more than a thousand patients receiving the clinic's free services. In a county where 17% of the population does not have health insurance this clinic provides a valuable service to those with nowhere else to go.
About three fourths of the patients are afflicted with diabetes, high blood pressure or asthma. These diseases can make their kidneys, hearts and brains very vulnerable, so treating these illnesses is a priority.
The clinic strives to give a comprehensive, though basic, level of care; it addresses prevention and management of chronic conditions. The clinic even provides six patient advocates, who refer patients to other services in the community, like help with housing and mental health care. "I love surprising people that way," Dr. Ginsberg said, referring to the quality of service the clinic provides.
The walk in clinic is open every Thursday evening from 6:00 - 8:30. It is staffed by two clinicians (two physicians or a physician and a nurse practitioner), two nurses, a receptionist and a patient advocate. The clinicians are all volunteers and are primarily recruited from Kaiser Permanente.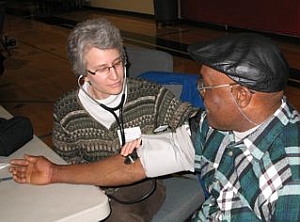 Dr. Ginsberg worked every Thursday night for many months, but now there are enough physicians so that she is not always needed. Follow up appointments are scheduled for Monday evenings, so patients who need more focused care can receive it.
About 20 patients move through the clinic's two exam rooms every week, but there are plans to serve more. The clinic occupies only about 500 square feet; space is so tight that the staff often makes use of a make-shift triage area, really just the end of the hallway behind a curtain. "Just physically we cannot move people through any faster, to see 20 people in 2 and a half hours -- things are really cooking," Dr. Ginsberg said.
Current limitations on space aside, the staff are dedicated to providing quality care, with no barriers. The clinic charges no fees for services or prescriptions, and they don't ask for proof of income, residency, or lack of insurance.
"We provide medication at no cost to the patient, which is huge, a huge thing," Dr. Ginsberg said, "because a lot of people are already on medicine or know they should be taking medicine but they have no way to get it."
Edmund Kizer is one such patient; he was previously diagnosed with diabetes but lacks medical coverage. Mr. Kizer tried to control the diabetes on his own, with his friends helping him get his medication. He found out about the clinic by word of mouth and has been attending for a few months. He said he is "getting straight" with his medication and is feeling better and grateful for the care.
Mr. Kizer summarized his feelings about the clinic this way. "You got some beautiful people willing to help people, people give their time up to care about other people, "he said. "It is remarkable."
Next Steps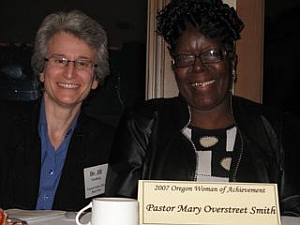 Dr. Ginsberg spends an average of 40 hours per week on her medical director duties, along with community networking, staff supervision and fundraising. During an upcoming sabbatical she will focus on recruiting more clinicians to treat more people like Mr. Kizer. She says many people want to help but don't know what to do. The clinic provides an opportunity to make a difference. "People who work in health care want to help, that's why we do what we do," she said.
Dr. Ginsberg will also take advantage of her time off to locate more space for the clinic in the neighborhood. Ideally, the new space will have 1500 square feet to allow four exam rooms. In a larger space at least a third more patients could be seen, with no additional staff resources.
Building something from the ground up has been a uniquely satisfying experience for Dr. Ginsberg, and she has formed deep connections with Pastor Mary and others in the neighborhood. Seeing the need every day, having the support of the community, and knowing that the clinic makes a real difference for the patients keeps her coming back.
Pastor Mary serves on the Board of Directors and frequently stops by the clinic. She sends many patients there for care, both from her church and her neighborhood. She also continues to inspire Dr. Ginsberg, coaching her to take one step at a time, focusing on helping one person at a time.
"I'll never again be guilty of that mistake of thinking that I can't make a difference" Dr. Ginsberg said.
About the Author
Marilyn Fonseca is a freelance medical writer in Portland, Oregon.
About Angels in Medicine
Angels in Medicine is a volunteer site dedicated to the humanitarians, heroes, angels, and bodhisattvas of medicine. The site features physicians, nurses, physician assistants and other healthcare workers and volunteers who reach people without the resources or opportunities for quality care, such as teens, the poor, the incarcerated, the elderly, or those living in poor or war-torn regions. Read their stories at www.medangel.org.