tropical disease
Fighting Poverty by Treating Parasites
Published 10/15/08 (revised 11/21/20) © 2008 Zeena Nackerdien
Photos courtesy of Sabin Vaccine Institute and Notre Dame Haiti Program
Mahatma Ghandi once said, "There are people in the world so hungry, that God cannot appear to them except in the form of bread."
Too often, as humanitarian aid workers have discovered, feeding malnourished people without treating their infections means feeding their intestinal worms first. Infections caused by parasitic worms -- helminths -- are among the seven leading neglected tropical diseases (NTDs) contributing to the global poverty crisis.
At least 1 billion people are estimated to be infected or co-infected with NTDs.[1] Soil-transmitted helminth infections and other neglected tropical diseases are prevalent among poor communities all around the world, including the USA.[2] Intestinal helminth infections, most likely introduced through the Atlantic slave trade, also occur to the present day in Caribbean countries.[3]
Dr. Peter Hotez
Organizations and individuals are addressing the problem of NTDs through fundraising, advocacy, and research and development programs in affected countries. One such example is Dr. Peter Hotez.
Dr. Hotez is Dean of the National School of Tropical Medicine and Professor of Pediatrics and Molecular Virology and Microbiology at Baylor College of Medicine, where he is also the Director of the Texas Children's Center for Vaccine Development (CVD) and Texas Children's Hospital Endowed Chair of Tropical Pediatrics.
On the scientific front, Dr. Hotez has examined the issues surrounding NTDs in his role as Editor-in-Chief of the scientific journal PLoS Neglected Tropical Diseases, and he joined forces with other experts to search for improved treatments. He detailed the global NTD burden in a 2008 book, Forgotten People, Forgotten Diseases: The Neglected Tropical Diseases and their Impact on Global Health and Development.[1]
Sabin Vaccine Institute
The Sabin Vaccine Institute honors the legacy of Dr. Albert Sabin, perhaps best known for his discovery of an oral polio vaccine.[4]
The efforts of the Sabin Vaccine Institute can be grouped into 3 areas: research and development of new vaccines for neglected tropical diseases, vaccine advocacy (including addressing safety issues), and advocacy and resource mobilization for neglected tropical disease control. Sabin success stories include research and development of a human hookworm vaccine (one promising vaccine candidate antigen is currently in clinical trials) and a recent grant for the development of a schistosomiasis (flatworm) vaccine.
Global Network for Neglected Tropical Diseases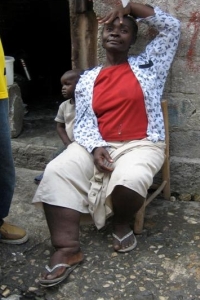 Another highlight of the Sabin Vaccine Institute is the Global Network for Neglected Tropical Diseases, headquartered at Sabin. The Global Network was established at the Clinton Global Initiative in 2006 to control or eliminate the impact of the seven most common NTDs -- ascariasis, hookworm infection, trichuriasis, lymphatic filariasis, onchocerciasis, schistosomiasis and trachoma -- through global collaboration.
The Global Network is an example of what happens when academia, the public and private sector collaborate successfully to fulfill the wishes implicit in one of Dr. Albert B. Sabin's quotes: "A scientist who is also a human being cannot rest while knowledge which might reduce suffering rests on the shelf."
Due to large-scale drug donation programs by pharmaceutical companies, the Global Network and its members have been able to distribute a Rapid Impact Package: a group of 4 drugs for the seven most common NTDs. Global network members, in collaboration with public-private partnerships, the World Health Organization, and governments of disease-endemic countries, have treated an estimated 147 million people for NTDs in the past year alone, for a cost as low as 50 cents per person.
One of Many Success Stories
The Global Network is in the process of collating the numerous personal stories reflecting their successes. One story involves a young boy, Aboubacar Ganama of Koumbri, Burkina Faso.[4] Aboubacar suffered from intestinal worms and was first treated in 2004 as part of a National Schistosomiasis and Soil-transmitted Helminth Control Program. The ailing 8-year-old, whose symptoms included blood in his urine, was transformed into a healthy child after being treated with appropriate drugs. Today, Aboubacar is able to focus on his schoolwork and play soccer with his friends.
The Haiti Program
Fr. Tom Streit, a research professor at the University of Notre Dame in Haiti, is studying the transmission dynamics of one of the worms causing the debilitating symptoms (swollen limbs and breasts) associated with lymphatic filariasis. Fr. Streit launched a treatment program for lymphatic filariasis at Notre Dame.
Haiti is one of the poorest countries in the Western hemisphere and carries a heavy disease burden. Partially funded by two concurrent grants from the Bill & Melinda Gates Foundation and in coordination with the US Centers for Disease Control and Prevention, the Haitian Ministry of Health (MSPP) and US NGOs, Notre Dame is fighting for elimination of lymphatic filariasis by 2013. The program, which is based on mass drug administration, is reaching the most endemic areas with about 25% coverage of the country, according to the Ministry of Health.
Two important drugs for lymphatic filariasis treatment, diethylcarbamazine and albendazole, have been obtained from WHO-recommended foreign suppliers and GlaxoSmithKline. The latter company has made a commitment to the Haiti program through 2020. Despite the environmental challenges and frequent political unrest, the program is making progress. Last year, over one million treatments were administered.
What We Can Do
Dr. Peter Hotez and others have provided road maps in academic publications of what can be done to reduce the economic and health burdens imposed by NTDs in poverty-stricken areas.[3,5-8] One provocative suggestion is to reinvent Guantanamo Bay, converting it from a detainee site to a research center for NTDs in the Americas.[9]
The network has also benefited from a generous pledge given by the Hollywood actress Alyssa Milano. An interactive website, social networking, e-newsletters and other web-based efforts are used to spread awareness and seek contributions for the treatment of NTDs.
One campaign that has gained momentum at the grassroots level is the Loose Change Initiative. A Rotary member conceived this idea after reading a New York Times article highlighting NTDs and the fact that the seven most common disease forms were treatable for pocket change per person. Volunteers quickly spread the word through the sale of T-shirts bearing the words "One in Six" (to reflect the fact that one in six people across the globe are infected with NTDs) and other fundraising efforts. In addition, the Plymouth Indiana Club has contributed $1000 for the last 5 years to the Haiti Program.
Fr. Streit's described his experience with the Haiti Program in words that illustrate the overall benefits of treatment programs and associated fundraising efforts:
"From the start of my involvement in Haiti in the early 1990s to today in 2008 I continually am amazed by the Haiti people and their uplifting spirit. Through hurricanes (four this fall in three weeks), political unrest and famine, the people of Haiti are and continue to be strong in their fight against infectious disease. I am continually renewed by their spirit and success against all odds. We are honored to work side by side with them as we address NTDs and help them find the tools to succeed in the future. As Mahatma Gandhi once said, 'The earth provides enough to satisfy every man's need, but not every man's greed.' We owe it to our brothers and sisters to help redistribute those resources for all to succeed."
About the Authors
Zeena Nackerdien, PhD, is a freelance science and medical writer. She can be reached at znacke1@gmail.com. Toni Nicholls, PhD trained as a neuropsychologist and works as a senior health policy analyst.
Acknowledgements
Information about Dr. Hotez and related stories have been provided courtesy of the Sabin Vaccine Institute. Dr. Nackerdien wishes to thank Nell Ryan and Sarah Craig from the University of Notre Dame Haiti Program for photos and related information.
About Angels in Medicine
Angels in Medicine is a volunteer site dedicated to the humanitarians, heroes, angels, and bodhisattvas of medicine. The site features physicians, nurses, physician assistants and other healthcare workers and volunteers who reach people without the resources or opportunities for quality care, such as teens, the poor, the incarcerated, the elderly, or those living in poor or war-torn regions. Read their stories at www.medangel.org.