prison healthcare
The Smallest of These: Project Niños
Published 9/26/08 (revised 11/22/20) © 2008 Rashada Alexander
In a prison, one has grown to expect certain things: cramped living conditions, loss of privileges, incidents of violence. In the 21st century, no one expects to see children growing up in a prison.
Dr. Chris Stout, the Founding Director of the Center for Global Initiatives (CGI), saw the unexpected while in Bolivia. In August 2007, CGI collaborated with Flying Doctors of America to provide medical and dental care for inmates and their families in three prisons in La Paz, Bolivia. This mission focused on physical care, but it also illuminated the emotional needs of the youngest inhabitants of the prisons, the children of the inmates, and gave birth to Project Niños.
How do children end up in the prison with their parents?
It happens when the mother or father is sentenced to serve a prison term and there is no one outside the prison who can care for the children. In the case of the men's prison, San Pedro, the entire family -- wives and children -- often lives in the prison when the husband is incarcerated.
Helping Those Without Resources
These prisons are located in urban settings and are often run by police instead of prison guards. The Bolivian prison system differs greatly from many around the world in another way; prisoners pay for everything they need while in prison.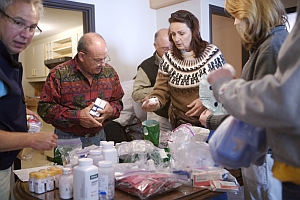 What happens if a prisoner has no money? Dr. Stout answered, "What do you do if you don't have any money and you live in Chicago? You live with somebody else or you live on the street. And that's exactly what happens in the prison. Either you buddy up with somebody in the prison and share in their cell or you sleep outside in the open courtyard of the prison."
The same holds true for other needs. If a prisoner cannot pay for food or clothing for themselves or their family, then they go without. If they need medical attention and cannot pay, they receive no care.
As a result, medical missions like those of Flying Doctors of America and CGI are well-received in the prisons. Their team of 12 volunteers has often worked 12-hour days to see to the prisoners and their families, treating 500-600 people from three prisons during a 10-day span.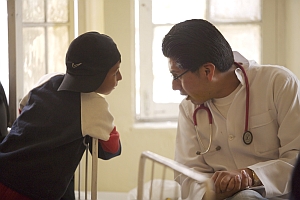 The care ranged from basic medical and dental checkups to chronic problems and infections. Some volunteers saw patients in a clinic setting, and others handed out everything from infant formula and vitamins to antibiotics and pain relievers in a makeshift pharmacy.
All of the volunteers, regardless of profession, worked in whatever capacity was needed. For instance, the photographer for the mission learned to take vitals and helped out in the clinic. Dr. Stout was not the only psychologist on the trip, as he also recruited a Latina psychologist to come as well. While both of them gave of their time to help however they could, neither of them intended to provide clinical services. Dr. Stout helped set up and worked in the temporary pharmacy, and even did a psych consult with a male inmate on behavioral management and conflict avoidance, providing another instance of volunteers doing whatever they can, wherever they can.
Reaching Out
Dr. Stout, who is also the chief operating officer for a psychiatric practice in Illinois, is no stranger to helping people all over the world -- he has been involved in humanitarian efforts for many years. He said that while growing up he was taught "that no matter how little you think you have, there's always somebody else who has less and always somebody that has more. But you've got certain kinds of gifts or talents that can be helpful to others...I always tell people, 'Don't feel like you necessarily have to be an MD or an RN or something. There's a lot of stuff that you can still do to be remarkably helpful.'"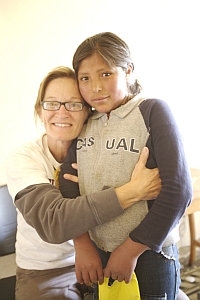 He has lived that attitude, co-founding a kindergarten in a Tanzanian orphanage and using his hobby of mountain climbing to sponsor non-profit organizations. The Center for Global Initiatives provides a sustainable infrastructure and network for the humanitarian work he continues to do, and he hopes that this organization can branch and grow.
As a veteran of need-based missions, Dr. Stout did not require specific training; he had previously worked with Dr. Allan Gathercoal, the founder of Flying Doctors of America. This organization brings help to the poorest populations of the world by flying in medical and dental teams. Dr. Stout said, "Through Flying Doctors of America and through Allan Gathercoal, we were invited to come down and participate last year." The team went to Bolivia to provide medical and dental care to prisoners and their families in La Paz, Bolivia. One of the prisons visited was a maximum security facility for women, Miraflores. The other prisons, not maximum security, were San Pedro (men) and Obrajes (women).
Life on the Inside
In non-maximum security prisons, the families of the inmates are allowed to come and go. The children can attend school, and the spouses may leave during the day.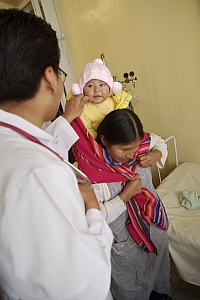 That is not the case in Miraflores. No one leaves the prison; even the guards have places to sleep. With so many of the women needing to provide not only for themselves but also for their children, the prison warden allows them to take in laundry and make and sell crafts to generate money.
As for the children, they not only live in the prison, they also go to school there. Dr. Stout said, "[In] the maximum security women's prison, the kids don't get to leave. So, the things that you and I would take for granted in going to school, if we walked to school or rode to school on a school bus...you see the world and, and you go out to the grocery store to buy food, and you go someplace to get your clothes. Well, none of that occurs with these kids...they're basically on house arrest or sequestered in this prison. There's just not a structure in the prison system to let the kids get out of the prison."
While working in the pharmacy during the mission, Dr. Stout witnessed the starkness of this predicament. The teachers in the prison's school approached the pharmacy volunteers to ask for the boxes that held the medications. The reason? So that they could use them as toys for the children. Dr. Stout recounted, "They're basically saying, 'Can we use your trash, because we have nothing to even play with these kids with.'"
As for the children themselves, even in such circumstances, they displayed a beautiful resiliency which made the unfairness of the situation stand out even more. The medical team saw the obvious dedication these teachers had for the children, as well as the dearth of resources available for them to use with the children. Dr. Stout and his colleagues began to think of ways to help.
Dr. Stout explained, "You can fly in to fill a tooth; you can't fly in and fix a trauma." He described his approach this way: "We look at the kids in a very holistic kind of way, that we want them to have good teeth, we want them to have good hygiene, we want them to have proper nutrition, we want them to have, as best as they can, in a psychologically not-healthy environment, to have as much psychological positives that they can."
As Dr. Stout said, "They're victims of circumstance. And we had this idea to say, these poor teachers have very little resources. They're using trash as toys. What can we do about that? We may not be able to change political structures and systems...we can provide medical services periodically, but what can we provide to these folks?"
Project Niños
The answer was to start small. But, as Dr. Stout pointed out, what may seem little to one person is huge to someone with nothing. This small but promising start includes generating CD-ROMs of materials in Spanish that can serve as "virtual libraries" for teachers in the prison. These will include coloring images, picture cards for vocabulary building, and instructions for activities and noncompetitive games. This type of teaching tool can be used for years and can be viewed on older computers, with or without internet access, such as the ones in the prison's school. Along with the discs, CGI will also be sending art supplies like crayons, colored pencils, and paper.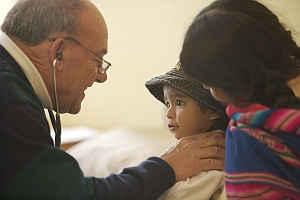 The materials will also include activities that can introduce and teach coping mechanisms to the children. The activities, designed to teach communication skills, empathy and active listening can be implemented by the teachers and do not require any extra toys or supplies or additional therapeutic training of the teachers.
The Center's use of expressive arts to address the children's needs is the most unique aspect of this project. As Dr. Stout explained, "We thought creative arts, expressive arts, music, you name it, could all be things to kind of bring life into these kids. The teachers down there...they've got the reading and writing and arithmetic stuff down. But just the rejuvenative aspects of what school could bring to these kids, there's surely not any other inroad that we would have to be able to do this with them...You sort of see the life and the spark and the hope in the eyes of these kids. We didn't see a whole lot of times that we needed to generate it or create it, but to keep it alive."
Dr. Stout even happened upon a route to get music to the children in the midst of an everyday task: taking his children to their music lesson. "My children's cello teacher's dad is the orchestra instructor for the local high school, and one day I took my kids over for their cello lesson. And I had just come back from Bolivia and we started talking."
The orchestra instructor volunteered to get music to Dr. Stout; once the music is translated, the children can begin basic music education, with or without instruments. Dr. Stout explained, "You can also bring singing into it, where you don't need any instruments whatsoever. You can also do basic kinds of stuff with music, triangles, maybe indigenous musical instruments they have there, like maybe flutes or stringed instrument." The Center continues to explore options for funding for the necessary materials and their transport to Bolivia.
The overall attitude throughout these efforts to aid the children is one of enhancing what is already there, not disparaging it. In Dr. Stout's words, "Everybody's got a strength, no matter what. And it's our job to find that strength and then build from that."
The Future
When Dr. Stout speaks about his plans, his desire for sustainability always remains clear. To this end, the Center plans to coordinate with the teachers in the prison school to find a local music teacher who could come to the school and teach the children music. They are already working with a Bolivian foundation to secure the funding that would be required.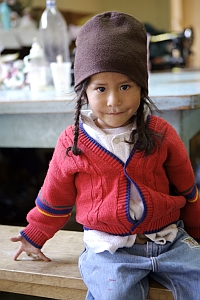 Dr. Stout is working with a volunteer who is also an art therapist to develop art therapy exercises that the teachers can use with the kids to help them express and process their feelings.
The art the children create could do more than provide them with a way to work through their experiences. Dr. Stout hopes that it can aid in the sustainability of the project. "Our thinking is that that would be therapeutic and beneficial for them, and it would [provide] more activities for the teachers to be able to engage them....But then to get the artwork of the kids, with appropriate permissions...and just say, if we could have your permission, we'd like to put your artwork into a book."
Once the permissions were obtained, CGI would look for a publishing house that could donate the production costs. Dr. Stout envisions that "It would be a free thing, 100%, to go back to the school. And the idea being that we would then have this as a sustainable way to pay for the teachers' salaries." Dr. Stout hopes that this would result in more exposure for the plight of these children, and hopefully, lead to more help and opportunities for these children.
The Center's plan for the projects it works on is, as Dr. Stout described it, "to continuously be a free consultant...but we really don't want to have ownership of these projects. We want to help hothouse them, greenhouse them, and then launch them." The Center is currently working on a range of projects, including efforts in Cambodia, Tanzania, Ecuador, Canada, and the US. These projects include health and emergency medical care training, medical mission coordinating centers, and public safety improvement initiatives.
Currently, Dr. Stout serves in a variety of capacities within the Center, from project coordinator to secretary to accountant, and most things in between. As the organization grows, so does its infrastructure; the end goal is, as Dr. Stout said, "If we can get that infrastructure, where we can have a webmaster, and a fundraiser and a secretary, then we can do the work and we can do more of the work." Though Project Niños is just one aspect of Dr. Stout's efforts to help others, it evidences his consistent attitude towards humanitarian work, a desire to help and find a way, big or small, to do it.
What does Dr. Stout want people to understand about Project Niños? "That true health and well-being is also the emotional part of these kids. And that's something that you kind of can't just fly in on a medical mission and take care of."
He continued, "The first thing was, let's get them medical care. The second part of it was, let's see what else we can do to help with the other aspect of their well-being, which is their education and their spirit and the psychological, emotional part of who they are, too. If you ignore those kinds of things, you're missing an opportunity to more wholly and fully help somebody."
About the Author
Rashada Alexander was a postdoctoral scholar in the Department of Microbiology at the University of Alabama at Birmingham and a freelance biomedical writer and editor.
About Angels in Medicine
Angels in Medicine is a volunteer site dedicated to the humanitarians, heroes, angels, and bodhisattvas of medicine. The site features physicians, nurses, physician assistants and other healthcare workers and volunteers who reach people without the resources or opportunities for quality care, such as teens, the poor, the incarcerated, the elderly, or those living in poor or war-torn regions. Read their stories at www.medangel.org.