cardiology
The Hearts and Minds of Ghana
Published 10/30/08 (revised 11/23/20) © 2008 Mary Lou Bernardo
Photos courtesy of Matt Cyr / Children's Hospital Boston
In October of 2006, a group of healthcare providers from Children's Hospital Boston left for Accra, the capital of Ghana. Their mission was to offer cardiac surgery to the children of Ghana and to leave a legacy of a trained and educated team of Ghanaian healthcare professionals.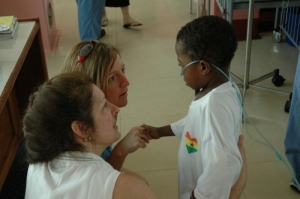 The idea for the mission had begun with Dr. Francis Fynn-Thompson, a pediatric heart surgeon who had grown up in Ghana. But its success was the result of team planning and coordination. That team included four people: Dr. Fynn-Thompson and a trio of nurses from the cardiac intensive care unit.
Beverly Small, Judy Hurley, and Christine Placidi are those nurses, and together they have succeeded beyond their expectations. Echoing through their story is their love of volunteer medical missions and their gratitude to everyone who has supported their efforts.
The Challenges of Pediatric Cardiology in Ghana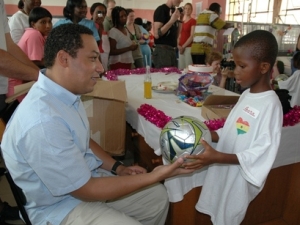 Ghana has only one cardiologist for every million inhabitants. There are only two pediatric cardiologists in all of Ghana, but no pediatric cardiac surgeons. Children born with heart defects have no hope of cure. They have no hope of a normal life.
The team from Children's wants to change that. "Every child in the world should be treated equally and given a chance," said Bev Small.
Heart surgery is not a simple matter. Not only does the surgeon require education, training, and skill, the surgery itself requires technology and an infrastructure that can support complicated intra-operative and post-operative care. It requires technicians, therapists, and pharmacists. But most of all it requires nurses: nurses who can assess the patient's condition and make judgments about changes, nurses who can adapt quickly to changes in the patient's condition or the surgeon's orders, nurses who can take part in making the sometimes heartbreaking decisions, and nurses who can teach.
Hearts and Minds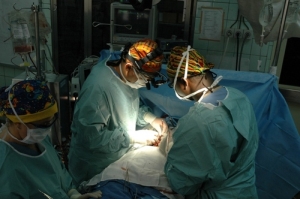 "We're fixing hearts and expanding minds," said Judy Hurley. It is this dual mission that was, and is, the foundation of Hearts and Minds of Ghana. Based at the Komfo Anokye Teaching Hospital in Kumasi, Ghana, the surgical mission now evaluates over 100 children and performs close to ten open-heart surgeries during its one week missions. Their goal is to perform 12 to 15 surgeries per week, and to leave a fully functioning pediatric cardiac center as their legacy.
During each mission they also train nurses from the school of nursing and the hospital to work in the cardiac operating room and in the post-operative unit. The team teaches and trains adult cardiac surgeons, cardiologists, medical students from the medical school, and "anyone else who is interested in learning," said Christine Placidi. Everyone on the team -- nurses, doctors, technicians and non-medical volunteers -- is a teacher. Everyone works 12-hour days, and everyone wants to return for another mission.
Judy: "I just love it. Knowing we do something for the kids makes it worthwhile."
Christine: "I do it for the kids...for their smiles."
Bev: "I get back much more than I give."
Planning and Coordinating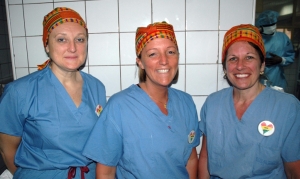 Every mission to Kumasi requires planning and coordination. All supplies and equipment are brought into Komfo Anokye Teaching Hospital. The team needs to know that every item that they could possibly need, in every possible size, is available.
The cardiac surgical suite is set up from scratch, in an operating suite vacated for that purpose. A special area is allocated for the post-operative children. Areas are set aside so that the non-medical volunteers can have a space where the children can play and the families can rest.
Nowadays, the planning and coordination also involves the gathering, sorting, and final distribution of donated school supplies. True to its goal of expanding minds and its commitment to education, the mission has adopted several Ghanaian schools. Education is no longer limited to healthcare education.
Team Effort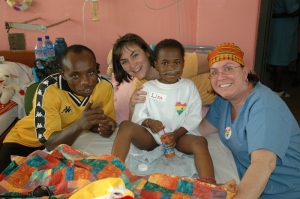 "We're committed for five to seven years, about 10 to 14 missions," said Bev Small. "But I want to emphasize that this is a team effort. Everyone on the team has input, from planning to returning home. And we couldn't do it without the support of our families and friends. We can't thank them enough."
It may take a village to raise a child. But it takes a team to make a dream come true.
About the Author
Mary Lou Bernardo, PhD, MSN is a freelance health and medical writer in Branford, Connecticut.
About Angels in Medicine
Angels in Medicine is a volunteer site dedicated to the humanitarians, heroes, angels, and bodhisattvas of medicine. The site features physicians, nurses, physician assistants and other healthcare workers and volunteers who reach people without the resources or opportunities for quality care, such as teens, the poor, the incarcerated, the elderly, or those living in poor or war-torn regions. Read their stories at www.medangel.org.