plastic surgery
When You're Smilin'
Kathy Majette, RN, and Operation Smile
Published 6/20/07 (revised 11/6/20); © 2007 Harry Goldhagen
When people concerned about world health think of the most pressing issues, they tend to focus on the big infectious killers: HIV, malaria, and tuberculosis. Those who probe somewhat deeper into the subject consider more mundane but widespread things like helminthic infections, diarrheal diseases, and other common parasitic infections. What often gets passed over, though, are the surgically correctable traumas and physical deformities.
Operation Smile
One group that addresses these challenges in poor countries is Operation Smile. This long-time volunteer organization sends teams of plastic surgeons, anesthesiologists, pediatricians, nurses, and dentists around the globe to fix cleft lips and cleft palates and other disfiguring facial deformities in children. In 1982, Dr. William P. Magee Jr., a plastic surgeon, and his wife Kathleen, a nurse and social worker, along with a small group of volunteers, went on a mission to the Philippines to repair cleft lips and palates. There were so many children who needed help, many more than the group could treat, that the Magees decided to set up Operation Smile.
Now in its 25th year, Operation Smile conducts approximately 30 medical missions to 25 countries each year, providing corrective surgery free of charge to more than 9,000 children. In 25 years, Operation Smile has treated more than 100,000 children and young adults. In November of 2007, they are planning a 25-country "World Journey of Smiles" to repair facial deformities around the globe, all in the same week.
I had the opportunity to speak with Kathy Majette, RN, an experienced neonatal nurse who has participated in more than 20 Operation Smile medical missions. Ms. Majette has worked as a neonatal intensive care nurse for more than 20 years, but considers herself "addicted" to Operation Smile missions. "I love this organization," she said. "I can't believe they picked me to talk to you about this."
Ms. Majette continued, "I wish everybody had the chance to have the feeling -- no matter how many times I talk about this, I can never explain it -- that feeling when the parents see their child for the first time. The doors open, the parents run, everybody else in the ward runs, just to get a look at that child. And the feeling -- some things they say can't be said in words, they just have to be felt -- is just incredible. With every kid, it's just so exciting. It never gets old. It's amazing."
Surgery Plus
In addition to surgical correction missions in poor countries, Operation Smile has created a number of other beneficial programs. The World Care program brings children with very serious deformities -- those who cannot be treated in the time frame of a mission -- to the U.S. for treatment. More than 200 patients have been treated since this program was begun in 1985.
A second program is the Physicians' Training Program. It is held annually, and it brings doctors from around the world to the organization's headquarters in Norfolk, Virginia, for advanced training. More than 700 health care professionals have attended these sessions since 1987. Ms. Majette stated that Operation Smile volunteers "teach the doctors new techniques, advanced life support, pediatric life support, so it's a teaching period as well as a thank-you period for letting us come to their country."
Another program is training student volunteers. "I'm recently involved with the students," she said. "Every mission they send two to four high school students who throughout the year have raised funds for Operation Smile. But they just don't go for fun, they have to teach, and they usually teach nutrition, dental care, oral rehydration, and burn care. So, before they go, the students are trained to give healthcare presentations on these topics, not only in the hospital, but at local schools and orphanages."
Saving Children
Ms. Majette sees the role of Operation Smile as vital. "I think every country's children are their greatest resource. The parents in these poor countries want nothing more than we want for our children. They want them to be able to go to school, they want them to be able to have friends, they want them to be able to talk and eat. It's the same things that we want for our children."
"These children may be young, but being our greatest resources, you never know when the road is going to turn the other way. I may be on the other side of that line, standing there, waiting for somebody to see my child, my grandchild, and they may remember me."
Nevertheless, Ms. Majette stated, "I experience this on every mission I go, hundreds of children turned away. Every year we go back -- more countries, more places, more children -- and there are still hundreds that we turn away. It's incredible."
Ms. Majette experiences a great deal of satisfaction from her missions. She said, "You know what's amazing, it's when you see a woman who gets a cleft lip repaired after 60 years. It's so satisfying. It's taught me so much."
Benefits Beyond Corrective Surgery
Surgery is not the only service these volunteers provide during their missions. The teams also teach techniques and share knowledge with the local nurses, and this is one of the key roles Ms. Majette fills.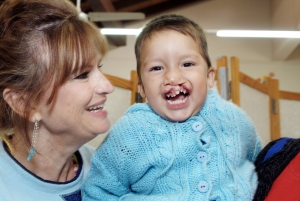 "Education is so important, and that's one of the things Operation Smile likes to provide," Ms. Majette stated. "In many countries, nurses don't have as many opportunities as we do for education. So, it's really valuable, because when we go to a country, we teach the local nurses as well as learn from them. They usually give us a list of topics they want to learn about. When I went to South Africa in 2006, they wanted to be taught about feeding difficulties and post-op care, so those are two of the topics we covered. We want to teach when we go, so they will be able to take care of their own children."
In this case, the choice was fortuitous. Ms. Majette recalled, "There was a child whose parents had heard about Operation Smile, and they called over the phone, but the problem was that they'd be traveling 18 hours to get to us. We only knew that the child had a cleft lip, we didn't know how bad it was, or what other problems she had. So the person in charge said, 'After midnight, don't feed your child, and if everything is well, and your child is in good health, then we'll more than likely perform surgery.'"
"They finally arrived -- they said 6:30, but they didn't get there until 10:30 -- it was a mother, a grandmother, a brother, and the child, who was supposed to be three years old. A three year old, and yet she weighed less than nine pounds! Everybody gawked and stared at the baby. Luckily, we had two pediatricians on the mission, one from South Africa and one from Italy -- we always include pediatricians -- and they examined the child. Unfortunately, she was not a candidate for surgery, even though she had bilateral cleft lip as well as some type of facial cleft midline. She was too small -- like you see on TV, when you see children who are starving. The baby was also having seizures, which they thought were probably nutrition related. We had a dietician on our team, and the local hospital dietician was there as well."
"When the family first arrived, you could tell that the mom was angry. And when you looked at the child you knew why. The mom had said nobody had ever treated her baby like a child. They always treated her like a vegetable, as if she wasn't going to live. She knew her child probably would not live, but she wanted to be taught how to feed her child, and take care of her child while she was still living."
"So, they said, 'Well, Kathy, can you work with her on feeding?' And I said, 'I'd be glad to,' because I had brought special bottles for my talk to show the local nurses about feeding children with cleft palates. So after the surgical examination, I worked with her, and I came to find out it wasn't a feeding difficulty at all -- the baby ate great."
"The mother looked at me and she said, 'Would you have surgery on your child?' (The family spoke English.) I said, 'Absolutely not. You have got to get her nutrition up, you've got to get her feeding, you've got to find out what we need to feed your baby so that she can grow, so that maybe she could have surgery.'"
"The mother said, 'I knew she probably wouldn't get surgery,' because everybody had closed doors to her. She said, 'But I was hoping that maybe you could teach me how to feed my child, and what to feed my child, so that next time you come she could have surgery.'"
"It was so neat because -- this is just an example -- what she was feeding the child was something you feed babies after six months of age, so the baby hadn't had solid food. And she was mixing the formula incorrectly, she was only putting in one scoop in the formula instead of nine. So, because she didn't know, the baby was starving. But the good thing was, we had the pediatrician there from South Africa who agreed to pick this child up and take her to her hospital, give her all the tests she needed, set her up with feedings -- the child would probably need a feeding tube in her stomach -- and she agreed to do that all for that family. And by the next day, that mother was so different, she was happy, she was smiling. For the first time ever in her life, her child had not been treated like a vegetable."
"We didn't do surgery, but we climbed a mountain with that parent. That was an incredible experience, with no surgery at all. It's such a little thing. People just want to be taught."
About the Author
Harry Goldhagen is the editor of Angels in Medicine.
About Angels in Medicine
Angels in Medicine is a volunteer site dedicated to the humanitarians, heroes, angels, and bodhisattvas of medicine. The site features physicians, nurses, physician assistants and other healthcare workers and volunteers who reach people without the resources or opportunities for quality care, such as teens, the poor, the incarcerated, the elderly, or those living in poor or war-torn regions. Read their stories at www.medangel.org.