aids
Improving Pediatric HIV Treatment
Dr. Mark Kline and the Baylor International Pediatric AIDS Initiative
Published 12/14/07 (revised 11/7/20); © 2007 Richard S. Spira, DVM
Toward the close of 1982, the Centers for Disease Control and Prevention (CDC) announced that AIDS in the United States had reached epidemic proportions. At that time, there were 600 AIDS cases in the US; 200 had died.
In stark contrast, this year almost 40 million people worldwide are living with HIV/AIDS. The number of those infected annually has dropped from over 3 million at the end of the 1990s to 2.5 million for 2007. A heartening change, but this nevertheless represents 6800 new infections each day, and for Dr. Mark Kline this is simply unacceptable.
Dr. Kline and BIPAI
Dr. Kline, Professor of Pediatrics at Baylor University School of Medicine and head of retrovirology at Texas Children's Hospital, coordinates the Baylor International Pediatric AIDS Initiative (BIPAI) with the Children's Clinical Centers of Excellence Network. Working with UNICEF, this has become the preeminent children's AIDS support group in the world. His success has been remarkable. Armed with antiretroviral drugs, the skill to bring changes from damaging social and medical customs, and the resources to educate and staff local clinical centers, Dr. Kline has seen children's AIDS mortality drop in some areas to less than 1 percent. This approaches the standards at some of the best centers in the US.
Currently, BIPAI has centers in Botswana, Swaziland, Lesotho, Uganda, Benghazi, Kampala, Libya, and Mexico City. At these centers, programs on pediatric health and HIV/AIDS for health professionals and clinical research have been keys to success. Fundamental to the program is the development of curricula, short-term US-Africa exchange fellowships, and long-term training for native health professionals at Baylor College of Medicine.
How BIPAI Began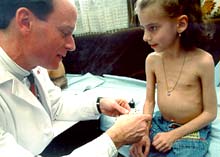 Since 1987, Dr. Kline had witnessed the steady improvement in HIV-infected children in the US, so that in 1996 when he revisited the horror of AIDS in wasting and dying children in Romanian orphanages, he needed to act. Dr. Kline started a program at Baylor to train Romanian doctors and nurses in the care of HIV-infected children. This soon evolved into a comprehensive care and treatment program.
From Romania the program grew to Africa, Asia, and Latin America. With funding from such sources as the Bristol-Meyers Squibb Foundation, Abbott Laboratories, The Elizabeth Glazer Pediatric Foundation, the US Centers for Disease Control and Prevention, the Sisters of Charity of the Incarnate World, and the United States Agency for International Development (USAID), clinics have been built or are under construction with modern examination rooms, procedure rooms, laboratories, and pharmacies, and more are on the way.
Integral to its success is the four-week training course in pediatric HIV/AIDS and tropical medicine offered at Baylor College of Medicine. Through these efforts, BIPAI was able to send over 50 physicians to clinics throughout Africa as part of its Pediatric AIDS Corps program last year.
Strategies for Reducing HIV Transmission and Improving Care
Dr. Kline expresses his frustration that while treatment with combinations of antiretroviral drugs will allow children with HIV in the developed world to enjoy long and healthy lives, in many countries these therapies are simply not available. Globally, this will translate to 600,000 childhood deaths this year.
Together with modern drug therapy, Dr. Kline wanted to bring simple procedural changes into the clinics and healthful social changes in their communities. In Romania, he saw the re-use of disposable needles and the injection of unscreened human blood into children. In Africa, he noted the common practice of HIV-infected mothers nursing their newborns. This practice alone accounted for 90% of new HIV infections in some areas. In Libya, HIV-infected children were socially stigmatized, evicted from schools, and were even unwelcome at their own dwellings.
In a coordinated effort to address these deficiencies, UNICEF and BIPAI work with national governments to expand pediatric HIV care and treatment initiatives to achieve the following four goals:
Strengthen technical support to countries with high HIV prevalence, especially related to preventing mother-to-child transmission and improving pediatric HIV care and treatment.
Through BIPAI's mentoring programs and HIV curriculum, train health care workers to improve clinical management of pediatric HIV so that children can be treated close to where they live.
Provide high-quality care, including antibiotics and antiretroviral therapy, to reduce mortality among HIV-infected infants and children.
Maintain an early identification and monitoring program of HIV-infected children to initiate treatment prior to the onset of severe disease.
Future Strategy: Evolution
Not content with past successes, Dr. Kline's vision continues to evolve. At a recent ceremony dedicating the BIPAI's Romanian Clinical Center of Excellence, Dr. Kline commented on the evolution of the care offered. He noted that:
. . . we are dealing with issues today that we couldn't have imagined a decade ago. At the time, we were just concerned with keeping the children alive for another month, another year. And today, we find that the HIV care is a relatively minor part of what we are doing. We are much more involved with primary medical and psychosocial needs. We are going to expand our services to accommodate the entire age range from infancy to adulthood. We will continue to provide medical and psychosocial services to these individuals, but we're also going to tackle issues like housing and job training, education and subjects surrounding marriage and family.
Toward that end, the center of excellence will provide services under the same roof, including programs in infectious diseases, pulmonary diseases, gynecology, dental care, psychosocial and vocational counseling, social assistance, family planning and support groups, and education for healthy and independent living. Beyond that, the Center will educate and train health professionals and develop a research department.
About the Author
Richard S. Spira, DVM, is a freelance writer in Tucson, Arizona..
About Angels in Medicine
Angels in Medicine is a volunteer site dedicated to the humanitarians, heroes, angels, and bodhisattvas of medicine. The site features physicians, nurses, physician assistants and other healthcare workers and volunteers who reach people without the resources or opportunities for quality care, such as teens, the poor, the incarcerated, the elderly, or those living in poor or war-torn regions. Read their stories at www.medangel.org.