orthopedic medicine
The Power of One
Published 8/28/08 (revised 11/21/20) © 2008 Mary Lou Bernardo
Photos courtesy of Tracy Maltz
Tracy Maltz realized that she had to clear some space in her office.
Crutches were everywhere. They were stacked against the walls. They were stacked next to her desk. Every available space was taken. Dr. Maltz's office had become a storage room. It was all for a good cause, and she didn't have any regrets. But something had to be done.
The Clutter
The metamorphosis of Dr. Maltz's office into a storage room for durable orthopedic and rehabilitation equipment had begun innocently enough.
Dr. Maltz -- who is Assistant Chief of Outpatient Physical Therapy at New York Presbyterian Hospital/Weill Cornell Medical Center -- had a connection to Mhe. Jakaya Mrisho Kikwete, President of the United Republic of Tanzania, and to his physician, Dr. Peter Mfisi. When she was invited to visit Tanzania, she jumped at the chance.
The Journey
Originally from South Africa, Dr. Maltz felt close to Africa and all things African. Not only would this be an exciting visit to an African country she had never seen, but she could combine it with a visit "home." So she set off for an exciting vacation fully expecting to enjoy every minute.
What she didn't expect, and what changed her life, was the impact that Tanzania and its people had on her.
"Ever since I went to Tanzania, I feel as if I'm living a dream," Dr. Maltz said. She has been living that dream for over a year. That dream, her dream, has improved the lives of many Tanzanians.
In Tanzania, Dr. Maltz was struck by the scarcity of orthopedic assistive devices. She remembers vividly one man whose foot had been seriously burned. His foot was heavily bandaged, and his ability to ambulate was compromised. But there were no crutches available, so he had to make do with sticks.
She knew that many assistive devices, such as crutches, were taking up space and gathering cobwebs in American homes and hospital storage rooms. Dr. Maltz set out to un-clutter those homes and storage rooms and to bring assistive devices to the people of Tanzania.
The Response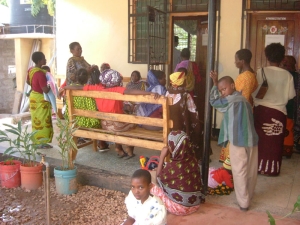 After giving a hospital Grand Rounds on her experience in Tanzania and the needs of the Tanzanian people, the calls -- and the crutches -- began pouring in.
She secured the help of the Tanzanian mission to the United Nations to help with transport to Tanzania. But this group of men could not keep up with the flow of goods. Dr. Maltz's office became a cluttered storage room, overflowing with crutches and other durable orthopedic goods.
"I knew I needed to get my office back!" she said.
The Solution
This is where serendipity stepped in. A colleague trying to enter her office found he could barely open the door wide enough. But he knew someone who could help Dr. Maltz reclaim her office. That person was Danielle Butin of the Afya Foundation.
Ms. Butin and Dr. Maltz found instant camaraderie in their love of Africa and their desire to improve global health. Within a month, Dr. Maltz had her office back. But, more importantly, she knew that there was a reliable way of keeping the devices flowing to Tanzania.
Dr. Maltz's days are full. She could easily have returned from Tanzania with wonderful memories and good intentions that lost their power in the crush of her days. But her dreams are bigger than that. Perhaps they are as large as the continent that inspired them. Dr. Maltz puts it simply. Her dream is "to promote consciousness and compassion in the world."
About the Author
Mary Lou Bernardo, PhD, MSN is a freelance health and medical writer in Branford, Connecticut.
About Angels in Medicine
Angels in Medicine is a volunteer site dedicated to the humanitarians, heroes, angels, and bodhisattvas of medicine. The site features physicians, nurses, physician assistants and other healthcare workers and volunteers who reach people without the resources or opportunities for quality care, such as teens, the poor, the incarcerated, the elderly, or those living in poor or war-torn regions. Read their stories at www.medangel.org.