fundraising
Alex's Lemonade Stand
You're Never Too Young to Help
Published 2/11/08 (revised 11/8/20); © 2008 Kelly McCoy
Like many kids her age, four-year old Alex Scott set up a lemonade stand in her front yard to earn some extra money. What sets Alex apart from her peers is that she did not want to spend the money on some new toy. Rather, she planned to donate the proceeds from her lemonade sales to "her hospital" to help her doctors find a cure for childhood cancer. She even decided the money should not only help kids with her type of cancer, but with all types of cancer.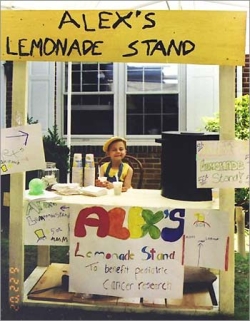 In 2004, eight-year old Alex lost the battle with her neuroblastoma, an aggressive cancer that accounts for almost 10% of all childhood cancers. However, during the four years since her first lemonade stand, Alex's unique philanthropic idea had already become the backbone for a new charity organization. In the course of her last four years, she and supporters from across the country raised over $1 million to fund childhood cancer research.
"She has become a real role model for what altruism really is," said pediatrician Mark Mozer, whose son Jacob is a neuroblastoma survivor. The beauty of the organization created in Alex's memory, Alex's Lemonade Stand Foundation (ALSF), is that anyone anywhere can hold a lemonade stand and donate their proceeds to the foundation.
Mozer and his family joined the effort to fight pediatric cancer when they brought Alex's lemonade stands to Kansas City, Missouri in 2004. They now oversee stands at 24 Hy-Vee grocery stores on two of the three national Lemonade Days, an annual three-day event during which thousands of stands are held by volunteers across the country. The effort in Kansas City has raised $183,000 for ALSF in the past four years.
The Mozers are just one family out of hundreds who have been inspired by Alex's vision to cure childhood cancer. Since Alex held her first stand in 2000, more than $17 million has been raised at over 8,000 lemonade stands.
Where the Money Goes
Each year, ALSF awards grants to hospitals or individual biomedical researchers who critically lack funding for pediatric oncology research. When asked how the foundation decided what to fund, Alex's father and executive director of ALSF, Jay Scott, simply responded, "We asked the doctors."
With the help of physicians from Alex's hospital, the Children's Hospital of Philadelphia, Scott and the foundation decided to tackle a significant problem that both the Scotts and Mozers encountered -- the long waiting lists used to enroll sick children in clinical trials. "There are kids that are on these waiting lists not getting treatments they need. Alex was on these waiting lists," said Scott.
"Greater than 90% of kids with cancer are involved in clinical trials across the board," Mozer explained. To accommodate all these patients, adequate personnel to run the trials is crucial. Unfortunately, many trials lack the necessary funding to hire the staff to keep the trials running.
Aiming for a solution, ALSF introduced their first grant, the Pediatric Oncology Program Infrastructure Awards. "We started by funding a nurse practitioner part-time, and they were soon able treat three times as many kids," Scott said. Now the foundation bestows grants to dozens of institutions, which use the money to pay the salaries of nurses and data managers who run the trials.
"These are the awards we're probably the most proud of," said Scott.
Innovators and Young Investigators
In addition to infrastructure awards, the foundation also supports basic biomedical research grants that aim to explore new treatments and potential cures for pediatric cancer. "[ALSF is] trying to fill the niche that doesn't get funding from other sources. They're after new innovative research," Mozer said.
Each year, ALSF funds two types of scientific research awards: Innovation Awards and Young Investigator Awards.
Innovation Awards provide funding to established scientists who propose truly novel research ideas. In general, their studies answer the question, "How can you get therapies as quick as you can to the patient?" Mozer said. The projects funded show promise of moving treatments quickly from the lab and into hospitals where patients can benefit from them.
Young Investigator Awards supply seed money to new scientists launching research labs. With money from ALSF, the researchers perform small experiments to provide them with enough preliminary data to apply for larger grants from places like the National Institutes of Health. In addition, the ALSF money may also promote interest in the field. "Young investigators who haven't really decided what field to go into but are great scientists have an incentive to go into childhood cancer research," Scott said.
Examples of research grants awarded in 2007 include an investigator from Ohio State University using innovative methods to treat pediatric brain tumors and a researcher from Johns Hopkins University exploring the genomes, or the entire genetic makeup, of pediatric cancer cells.
Nurses
After funding the infrastructure and biomedical research grants for two years, ALSF established yet another type of grant.
"I went to a conference and saw that nurses weren't getting any kind of funding for their research projects. [They were] either paying out of pocket or getting a little bit of money from the doctors," Scott said. These projects are important because they focus on improving the bedside care children receive while in the hospital. It makes sense that the foundation provides the nurses, the people on the frontlines of improving the quality of life for pediatric patients, with the means to do so, he said.
"Right now they're doing a study on improving sleep in kids in hospitals. They think that if they sleep better, their hospital stay can be shorter," said Scott. Two other ALSF grants awarded this year will study the eating habits of teens during bone marrow transplants and the end-of-life communications between pediatric oncology nurses and patients.
Alex's Impact
Thirty-six American children are diagnosed with cancer everyday, and cancer remains the leading cause of death for kids under the age of 15 in the United States. Thanks to Alex Scott and her foundation, 50 research grants have been awarded to institutions nationwide by an organization that evolved from one lemonade stand. ALSF plans to continue filling these critical gaps in funding for pediatric oncology research. As the foundation's tagline says, they truly are "fighting childhood cancer one cup at a time."
About the Author
Kelly L. McCoy is a freelance medical writer based in Atlanta.
About Angels in Medicine
Angels in Medicine is a volunteer site dedicated to the humanitarians, heroes, angels, and bodhisattvas of medicine. The site features physicians, nurses, physician assistants and other healthcare workers and volunteers who reach people without the resources or opportunities for quality care, such as teens, the poor, the incarcerated, the elderly, or those living in poor or war-torn regions. Read their stories at www.medangel.org.