surgical care
Foundation Of Orthopedics And Complex Spine (FOCOS)
World-Class Orthopedist Brings the Caring Home
Published 1/18/08 (revised 11/8/20); © 2008 Marcia Stone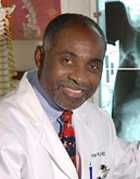 As if they don't have enough life-threatening diseases to negotiate -- malaria, HIV/AIDS, monkey pox and measles, to name just a few -- African children are also beset by scores of dangerous and painful spinal deformities, many of which have causes long vanquished in the developed world. Pott's disease, for example, the spinal tuberculosis said to have crippled Tiny Tim, is rarely if ever seen by US doctors and nurses. Neither are the deformities caused by polio. Unfortunately, these painful and debilitating conditions are not uncommon in most parts of Africa, as orthopedic surgeon Dr. Oheneba Boachie-Adjei, winner of the American Academy of Orthopedic Surgeons' 2004 Humanitarian Award, well knows.
Boachie-Adjei is very familiar with the dangers of growing up in Africa. Born in Kumasi, Ghana, he almost didn't make it through childhood after contracting a severe gastric infection. The herbal remedy prescribed by a local healer wasn't helping. "People were dying all around me," remembers Boachie-Adjei, "I wasn't going to make it." But his family tracked down one of Ghana's few physicians, a pediatrician trained in the UK who came home to practice. Not only did this doctor save Boachie-Adjei's life, he changed it completely.
Inspired by Western medicine's power to heal, Boachie-Adjei came to the US at 21 with just $12 in his pocket, went to work in a factory, enrolled in Brooklyn College and, in 1976, graduated summa cum laude with a degree in chemistry. After earning a medical degree from Columbia University's College of Physicians and Surgeons, Boachie-Adjei completed his orthopedic residency at New York's prestigious Hospital for Special Surgery, where he is now chief of the scoliosis service.
And then, in the mid-1990s, Boachie-Adjei went home, but not alone. He brought along an entire orthopedic team. Using his own money for startup costs, Boachie-Adjei established a foundation providing orthopedic spine services to people in Ghana, Barbados and other countries unable to afford adequate medical care.
Boachie-Adjei's Foundation of Orthopedics and Complex Spine (FOCOS) attracts dedicated teams of volunteer professionals performing spine, hip and knee procedures: surgeons operating assisted by nurses; anesthesiologists managing patients during what are often marathon procedures; physical medicine experts (physiatrists) pinpointing areas of nerve damage with electromyelograms (EMGs); neurophysiologists monitoring nerve function during and after surgery; and physical therapists helping postoperative patients learn how to walk. Most come back at least once a year, and all pay their own way.
In the past nine years, Boachie-Adjei has led more than a dozen different teams to Ghana and Barbados where, in addition to performing surgery, they train local healthcare professionals in orthopedic techniques. Physical therapist Tonya Juge says it was "both professionally and personally rewarding to be part of a concentrated effort with a higher purpose."
According to Juge, FOCOS patients, a great number of whom were children, came from as far away as Ethiopia without family, underwent spine surgery and were successfully rehabbed at an accelerated pace -- walking within 2 days of their surgery. Bettye Wright, a physician assistant who has been working with FOCOS since 1997 says that even though they work very long hours, at the conclusion of each trip, when they are exhausted and boarding the flights home, the same question is asked: "When is the next trip?"
About the Author
Marcia Stone is a freelance medical and mystery writer based in New York City.
About Angels in Medicine
Angels in Medicine is a volunteer site dedicated to the humanitarians, heroes, angels, and bodhisattvas of medicine. The site features physicians, nurses, physician assistants and other healthcare workers and volunteers who reach people without the resources or opportunities for quality care, such as teens, the poor, the incarcerated, the elderly, or those living in poor or war-torn regions. Read their stories at www.medangel.org.