tropical medicine
Neglected Tropical Diseases and Drug Donation Programs: Successes and Challenges
Published 7/15/08 (revised 11/20/20) © 2008 Zeena Nackerdien
Photos courtesy of Global Network For Neglected Tropical Diseases
Pharmaceutical companies have engaged in corporate philanthropy by donating drugs to developing countries, where an estimated 1 billion people suffer from one or more neglected tropical diseases.[1]
Preventing River Blindness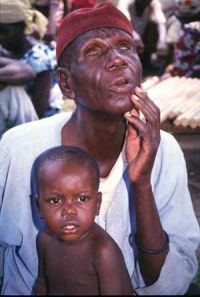 The successful treatment of onchocerciasis (also known as river blindness), the world's second leading infectious cause of blindness, illustrates the medical benefits of corporate giving. Merck was the first company to make such a commitment, by donating Mectizan, a human formulation of the veterinary drug ivermectin, for the treatment of river blindness in sub-Saharan Africa.
The Mectizan program, initiated in 1987 and now jointly operated by several agencies, has achieved major successes in West Africa, preventing an estimated 600,000 cases of total blindness and eliminating other debilitating side-effects of the disease.[2] Because this program has been in place for more than twenty years, it has provided operational lessons for streamlining drug management and incorporating broad partnerships as well as community-directed treatments.[3]
Other Programs
Other companies followed suit. Pfizer provided the antibiotic azithromycin to control trachoma (another infectious cause of blindness) in developing countries. SmithKline Beecham distributed albendizole as part of a 20-year collaboration with the World Health Organization to treat lymphatic filariasis, a parasitic disease. And Glaxo Wellcome initiated a "controlled donation program" of the antimalaria drug, Malarone.[4]
Drug Donation Programs for Neglected Tropical Diseases
Merck: Mectizan (ivermectin) for onchocerciasis and lymphatic filariasis
Pfizer: Zithromax (azythromycin) for trachoma
GlaxoSmithKline: albendazole for lymphatic filariasis
MedPharm: praziquantel for schistosomiasis
Johnson and Johnson: Mebendazole for soil-transmitted helminths
Source: Global Network for Neglected Tropical Diseases
Risks of Resistance
Drug donation programs play an important role in the global health initiatives currently evolving to fight neglected tropical diseases. However, the specter of resistant infectious agents hovers over success stories.
Suboptimal responses to ivermectin have already been reported in Ghana and the Sudan.[5,6] A recent study identified an ivermectin-tolerant subpopulation of Onchocerca volvulus, the worm responsible for onchocerciasis.[6] Multi-drug resistant strains of Plasmodium falciparum, the infectious agent responsible for malaria, are already a fact of life.[7] Are azithromycin-resistant strains of Chlamydia trachomatis inevitable in regions where affected patients are treated with this antibiotic?
More Options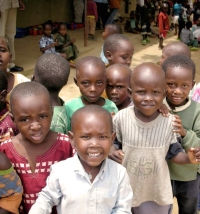 Drug-resistant infections have been a feature of the ongoing competition between humans and infectious agents all over the world. How can current health initiatives targeted to the developing world be improved?
Non-drug alternatives like bed nets have reduced all-cause childhood deaths by 20%.[8] Sanitation and clean water are also part of the answer, but do not directly address the emergence of resistant infectious agents. Drug-screening collaborations (already underway with pharmaceutical companies), studies in appropriate animal models, harnessing genomic information and scaled-up field research are cornerstones of an ongoing strategy to ultimately eradicate tropical diseases.[9]
About the Author
Zeena Nackerdien, PhD, is a freelance science and medical writer. She can be reached at znacke1@gmail.com.
About Angels in Medicine
Angels in Medicine is a volunteer site dedicated to the humanitarians, heroes, angels, and bodhisattvas of medicine. The site features physicians, nurses, physician assistants and other healthcare workers and volunteers who reach people without the resources or opportunities for quality care, such as teens, the poor, the incarcerated, the elderly, or those living in poor or war-torn regions. Read their stories at www.medangel.org.