book excerpt
The New Humanitarians:
Inspiration, Innovations and Blueprints for Visionaries
Published 4/24/08 (revised 11/18/20) © 2008 Chris E. Stout
Photos courtesy of CGI and CHRP
This excerpt is from The New Humanitarians, a collection of vignettes about people and organizations making the world a better place.
-----
Welcome to a trip around the world. You will travel to six continents, led by men and women of various ages and backgrounds. Be warned, you may go to some fairly desperate places, but they all have a seed of hope. You will not be traveling as a tourist, but rather as an activist with more than three dozen organizations -- each one incredible.
Each chapter is a story, a story of need, of response, and of accomplishment. They are all at once different, but yet the same as being an inspirational account demonstrating the power of the individual triumphant over the challenges of poverty, illness, conflict, or a litany of injustices. My friend, Jonathan Granoff, President of the Global Security Institute, said of the project that it is a counter to the pervasive "pornography of the trivial" that infects much of what is in print these days. I suspect he is correct.
As a sad postscript but powerful testament to the seriousness of the work done by those profiled herein, a few days prior to this manuscript being sent in to the publisher, I was speaking with a representative with Médecins Sans Frontières who told me that three of their staff had been killed in a conflict zone in northwest Africa. My heart sunk on this news. While I know such things happen -- and with much more frequency that I usually let myself believe -- I was more honored to get the stories of these heroic organizations out to a broader audience.
In these three volumes, readers will learn about individuals who have created organizations that:
Break up human trafficking rings and teach citizens how to intervene in other injustices
Go to conflict areas and put themselves at risk to end the conflict
Help ensure elections are just
Go to active war zones to administer emergency medical care
Provide training and loans in order to empower people out of poverty
Create a new language and then put it to use in developing education and job training programs
Work to stop nuclear war and curb the development of weapons of mass destruction
Create an ingenious for-profit organization that supports not-for-profit work
Solve a problem of medical supply shortages in the developing world while also alleviating medical waste problems in the developed world
Export social services training into self sustaining programs
Create project-based trainings in order to increase capacity for global projects
Treat immigrant and refugee survivors of torture in a culturally competent manner that is encompassing and holistic
Help boys conscripted into being child soldiers adapt to a normal life
Create the first not-for-profit pharmaceutical company to help in the battle of neglected diseases
Advance education for girls where it is almost unheard of
Integrate urban environmental design with democracy, civic participation and social justice
Bring the philosophy of "it takes a village to raise a child" to formative elementary school years, blending cultural heritage, and inspiring students by mobilizing parents, teachers, and young adults
Connect experts from a range of fields to work together on problems such as curing and preventing infectious and epidemic diseases, analyzing the risks of science and technology breakthroughs, and designing enforceable global health and environmental policies
and many more...
Sustainable Transformation of Communities: The Jamkhed Experience
by Shobha R. Arole, MBBS, DCHD, Associate Director, CRHP, and Raj S. Arole, MBBS, MPH, Director, CRHP
Large and diverse, India is a country of paradoxes. In spite of incredible growth in economy and business, 80% of the population continues to live on less than $2 a day (Population Reference Bureau, 2007). Women have held the highest political offices in the country, yet a large number of women still hold a low status in society and lack self-esteem. While part of the world's vanguard in information and computer technology, India still has persistently high rates of infant mortality, maternal mortality, and deaths due to chronic and communicable illnesses, with some of the world's worst health indicators, especially the poor in rural areas and urban slums.
Most health professionals, as well as the public, tend to believe that the solutions to India's common health problems lie in well-equipped hospitals and highly specialized personnel who can provide "quality" care.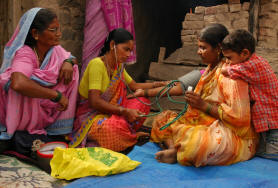 Against this background, Drs. Rajanikant and Mabelle Arole founded the Comprehensive Rural Health Project (CRHP), a community-based health and development program in Jamkhed, Maharashtra, India. Surmising that health is not limited solely to hospitals and curative services, the Aroles recognized its many other determinants. They believed that economic, environmental, nutritional and social factors -- issues like the low status of women and the plight of the marginalized -- influence health profoundly.
The Aroles founded CRHP in 1970, and since then it has become an internationally renowned community-based health and development organization. Over the years, the project has affected and influenced national and international government health policy, NGOs, faith-based organizations, and businesses engaged in social entrepreneurship. In 1975, the World Health Organization (WHO) published a book, "Health by the People" (Newell, 1975), with a chapter on CRHP. This book was part of the process which led to the WHO/UNICEF conference held in Alma-Ata in 1978, resulting in the Alma-Ata Declaration on Primary Health Care as the means for providing "Health for All" globally. In 2001, the Schwab Foundation selected the Aroles as outstanding social entrepreneurs for their development of an innovative and sustainable model in health and development.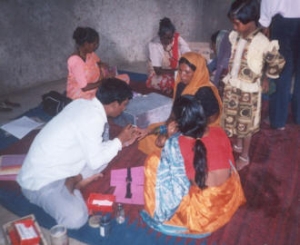 CRHP currently serves a population of 1.5 million through its primary and secondary health care programs, hospital and training center. A truly grassroots project, it strives to place health in the people's hands. The Aroles started as pioneers in the field of primary health care, successfully demonstrating a truly sustainable model. As communities and project personnel have interacted to promote lasting change, disease patterns have shifted from primarily communicable diseases to mostly non-communicable illnesses such as diabetes and hypertension.
Both primary and secondary health care continue to be relevant to the issues faced today, and full community participation in the integrated approach to both prevention and cure remains a vital element of the project. With almost four decades of experience, CRHP has established itself as an organization committed to uplifting the poor and marginalized in relevant ways within the communities it serves.
About the Author
Dr. Chris E. Stout is the Founding Director of the Center for Global Initiatives. He is a licensed clinical psychologist, with faculty appointments at the University of Illinois College of Medicine and Northwestern University Feinberg Medical School. He produced the critically acclaimed four-volume set The Psychology of Terrorism. His humanitarian activities include going on international missions with the Flying Doctors of America to Vietnam, Rwanda, Peru, and the Amazon; War Child in Russia; having worked with the Kovler Center (for Refugee Survivors of Torture), Amnesty International, RWJ Foundation, the Elizabeth Morse Charitable Trust, and Psychologists for Social Responsibility.
About Angels in Medicine
Angels in Medicine is a volunteer site dedicated to the humanitarians, heroes, angels, and bodhisattvas of medicine. The site features physicians, nurses, physician assistants and other healthcare workers and volunteers who reach people without the resources or opportunities for quality care, such as teens, the poor, the incarcerated, the elderly, or those living in poor or war-torn regions. Read their stories at www.medangel.org.