dental care
Something to Smile About
Drs. Jim Cecil and M. Raynor Mullins and Seal Kentucky
Published 12/24/07 (revised 11/8/20); © 2007 Rachel Ahmed
Diamonte Driver had his entire life ahead of him. At the age of twelve, Diamonte was like most young boys his age, active and bright. In light of his family's homelessness, his courage served as a strong example, one his younger brother DeShawn looked up to with admiration. Until a toothache took Diamonte's life.
In February 2007, after undergoing two brain surgeries, Diamonte died. The cause? An infection resulting from an abscessed tooth, which spread to his brain.
Dental Infections Progress if not Treated
"Most infections of the human body are self-limiting in that, if you get a viral infection and outlive it, you'll be okay," explained Jim Cecil, DMD, MPH. Dr. Cecil should certainly know, as the former administrator of the Oral Health Program at the Kentucky Department of Public Health and a part-time professor at both the University of Kentucky (UK) College of Dentistry and the UK College of Public Health in Lexington.
The situation is different with dental disease, because it never goes away once it gets started; it is not self-limiting. "That's the difference between an oral infection and [most] other infections. You have got to treat [oral infections] and intervene, or the ultimate sequella is death," Dr. Cecil stressed. "You would think that, in our society, we would not have people dying of toothaches, but that's not the case."
Sadly, this was the case for Diamonte, whose Medicaid insurance had lapsed, preventing him from receiving an $80 procedure to remove his abscessed tooth. Though Diamonte was from Maryland, access to dental health care is a problem for individuals in almost every state -- especially in Kentucky.
Seal Kentucky Begins
To address this need, Dr. Cecil, along with M. Raynor Mullins, DMD, MPH, the former outreach director for the UK Center for Oral Health Research, embarked on a partnership with the commonwealth of Kentucky in an attempt to strengthen dental public health across the state. During a national health conference in 1995, they became aware of a program called Seal America: The Prevention Invention. They adapted this program the following year to fit the needs of Kentucky, creating Seal Kentucky through the support of a grant from the Robinson Forest Trust."Seal Kentucky is a community-based sealant program designed to increase the use of sealants across Kentucky," Dr. Mullins explained.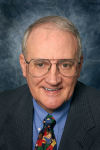 Dental sealants, which were not a covered benefit in Kentucky when Seal Kentucky began (but are now covered by Medicaid), are composite or plastic coatings that are placed in the grooves of teeth to prevent tooth decay. There are two major types of tooth decay: smooth surface and fissure. Smooth surface decay occurs predominately on the smooth surface present between adjacent teeth. Fissure decay generally occurs within the chewing surface of teeth, which is where sealants are typically applied to prevent such decay. The sealants last for approximately five years, but they need to be checked regularly to ensure they remain intact. If necessary, the sealants can be reapplied.
Seal Kentucky initially started as a pilot program to provide students at the UK College of Dentistry with experience administering sealants for underserved children in rural Kentucky. Gradually, this program has evolved into a state-wide effort utilizing volunteers from the UK College of Dentistry, both students and faculty, and local dentists.
How Seal Kentucky Works
According to the UK College of Dentistry web site, one of the major goals of the college is to provide school-based screening, prevention, education, and treatment programs to increase dental access for children in underserved areas in Kentucky.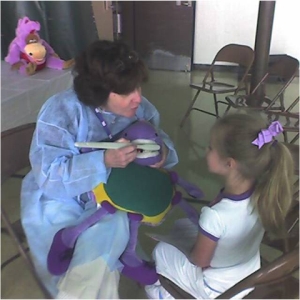 "We try to identify school targets that are high risk," Dr. Mullins explained. "A child cannot grow, learn, or develop at a normal rate if they have these types of problems. That's where we get our sense of mission. When we see these children in our community programs, we try to follow-up and link them with service. It's a difficult process."
Once these at-risk schools are identified, Seal Kentucky provides a portable clinic that can be set up in either a classroom or gymnasium. Each portable clinic has approximately seven stations where children can receive a dental exam and sealant application. All students are eligible to receive this dental care, free of charge, upon consent from a parent or guardian.
To provide dental examinations, UK dental students are paired in teams where one student serves as an assistant and the other student serves as the operator. Additionally, a team of volunteer UK College of Dentistry faculty attends each two-day clinic, where they help set up the stations and observe, evaluate, and coach the dental students throughout the program.
The Roots of Dental Disease in Kentucky
Dental disease in children starts at a very early age. Currently, the Academy of Pediatric Dentistry recommends that children be seen by a dentist by age one. In Kentucky, however, only about 20% of at-risk children younger than five have an exam. This is a multifaceted problem, partly stemming from a lack of dentists in some areas and uneven distribution of dentists throughout Kentucky.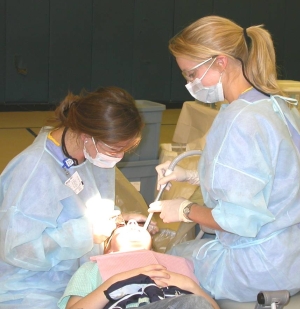 The majority of Kentucky dentists are concentrated in the larger cities of Lexington, Louisville, and Paducah. Individuals who live in more rural areas, such as Clay County and Owsley County, are often encouraged to seek care within these larger cities, something many rural residents cannot do. "The rural environment is associated with poor dental health for [numerous] reasons: access to care, access to prevention, and reduced incomes," Dr. Cecil explained.
Further, since oral disease is a chronic infectious process, the disease can progress very rapidly. Unfortunately, oral infections such as cavities are not easily recognized by parents or teachers and generally require a detailed examination to identify the problem. In populations with significantly high poverty rates, such as Kentucky, it is often difficult for individuals to access dental care. Thus, most dental problems are not addressed until the need for dental care becomes urgent.
"We identify children all of the time that have urgent need, meaning that we can see a visible abscess in the child's mouth," explained Dr. Mullins. Without proper care, these infections can develop into painful lesions, leading to additional complications such as loss of baby or permanent adult teeth.
Expanding the Program
In the fall of 2007, Seal Kentucky offered their services to four local elementary schools. Through the four two-day clinics, 782 children were provided with a free dental exam, yielding the application of over 2200 sealants. "In the last year, over 300 children had urgent care needs," explained Dr. Mullins. The success of the Seal Kentucky program has led to the expansion of this program into a mobile dental outreach program, which serves many counties across Kentucky.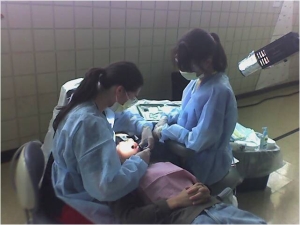 In an effort to reach even more individuals, Seal Kentucky has partnered with the UK Center for Rural Health, where they plan to develop new outreach programs for both children and adults in the cities of Hazard, Morehead, and Madisonville and at Murray State in Kentucky. "A couple of years ago, [Kentucky] had five adults on respirators in the hospital because of gum infections that had gotten out of control," explained Dr. Cecil, emphasizing the need to expand outreach to adults as well as children. "The mouth has so many blood vessels that infection can spread very quickly to other parts of the body, often either to the brain or to the heart." While it is not common for individuals to die from oral infection complications, it certainly can happen -- especially in young people.
Recognition and Benefits of the Program
This dental outreach initiative, started by Dr. Cecil and Dr. Mullins, has played a pivotal role in alleviating pain and suffering, increasing productivity, and preventing unnecessary tooth loss in the state of Kentucky. In fact, the success of this program has elicited national recognition from two major sources. In 2001, former Secretary of State General Colin Powell honored the UK College of Dentistry with the America's Promise Award, which recognizes organizations that are committed to providing children with the fundamental resources they need to lead successful lives. More recently, the Kentucky Public Health Dental Partnership was awarded the prestigious Glaxo SmithKline Partnership for Healthy Children Award from the American Public Health Association in 2006.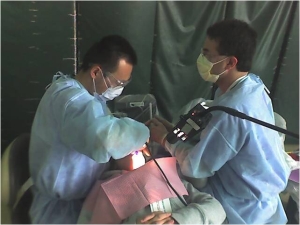 Through the generosity of the UK College of Dentistry and the local community, monetary donations and volunteer dental expertise have enabled underserved children and adults in rural Kentucky to receive much needed access to free dental care. As the focus of this oral health initiative broadens across Kentucky, Drs. Cecil and Mullins aim to provide preventative dental education and care to even more people with such needs, hopefully preventing the loss of young people like Diamonte Driver.
About the Author
Rachel R. Ahmed, MS,PMP,CA-AM is Head of Project and Portfolio Management at Vir Biotechnology, Inc. Rachel can be reached at rahmed@korrazen.com.
Clinical photos courtesy of Judith Skelton, PhD, associate professor, Division of Public Health Dentistry, University of Kentucky College of Dentistry.
About Angels in Medicine
Angels in Medicine is a volunteer site dedicated to the humanitarians, heroes, angels, and bodhisattvas of medicine. The site features physicians, nurses, physician assistants and other healthcare workers and volunteers who reach people without the resources or opportunities for quality care, such as teens, the poor, the incarcerated, the elderly, or those living in poor or war-torn regions. Read their stories at www.medangel.org.