free clinic
The Least of These
Lackey Free Family Medicine Clinic
Published 11/28/07 (revised 11/7/20); © 2007 Marisa Loeffler
If you were sick and had no doctor, what would you do? If your child needed medicine that you could not afford, where would you go? More than a few people wrestle with such questions. In 2006, 47 million Americans (15.8%) were uninsured; 36.5 million Americans (12.3%) were living in poverty.
Complete Coverage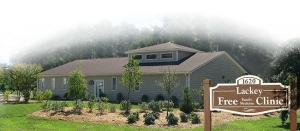 The Lackey Free Family Medicine Clinic provides primary health care, chronic disease management, and counseling to an average of 1000 individual patients per year. These myriad services are all available at no cost to patients who have no insurance and who fall below twice the federal poverty guidelines.
These services include primary care, family medicine, school physicals, pediatrics, gynecology, diabetic counseling, and eye exams. Additionally, patients will find a chronic care clinic, specialty clinics offering rheumatology, endocrinology, and ophthalmology services, lab and X-ray services, case management, and spiritual counseling.
The clinic also offers The Pharmacy Connection, a software program that compares a patient's prescription needs with the criteria of more than 150 participating pharmaceutical companies, finding the best match. Free medicine is then shipped to the clinic and dispensed to the patient.
Part of a Larger Network
To maximize service availability, the Lackey Clinic participates in the Greater Virginia Peninsula Consortium of Free Clinics. This is a network of four clinics that each makes its unique offerings available to patients of any of the other three. In 2006, the Consortium developed charity care agreements with three hospitals, providing access to outpatient, inpatient, diagnostic, and testing services.
In 2007 the Consortium launched a regional dental program. The Lackey Clinic houses one of the three dental treatment sites. Together they are projected to have provided 9858 procedures, valued at $800,000, by the end of the year.
According to Scott Golrich, DDS, president and lead dentist at the Peninsula Christian Free Clinic, "Research has found strong links between healthy teeth and gums and overall wellness. Gum disease has been linked to heart disease, stroke, respiratory disease, worsening osteoporosis, and diabetes." In light of this, the dental program promises to have far-reaching health benefits.
How It Began
In 1995, Dr. Jim Shaw and his wife Cooka began providing answers for poor, uninsured residents of Lackey in York County, Virginia. What started as a once-a-week free clinic held in Rising Sun Baptist Church has since become the Lackey Free Clinic.
The spark that ignited Dr. Shaw came from reading a verse of Scripture shortly after he became a Christian. Dr. Shaw says, "My motivation is based on Matthew 25:40, 'Inasmuch as you do it for the least of these my brethren, you do it to me.' I am called to serve the poor, because of my desire to serve Him, for what He has done for me." Dr. Shaw says that ". . . the key to our mission at Lackey [was that] we had to love and serve [each patient] just as if they were Jesus." Moreover, "We knew from the start that. . . we had to provide these services in a loving and compassionate manner, as if He were treating the patients Himself." The result was a clinic whose mission is "to provide skilled, compassionate health care and counseling to the medically disadvantaged in a manner that honors the name of Jesus Christ."
Word spread about that initial clinic. Patient load increased, other physicians and nurses began volunteering their services, and the ministry was moved to the nearby Charles Brown Community Center. Then, in 2003, the brand new Lackey Clinic facility was opened in Yorktown, VA. In 2007, 1100 square feet of space was added to the Clinic. This provided additional room for triage, an office for a paid medical director, a diabetic education conference room, and space for a program that provides access to free medicine.
The Power of Volunteers
The staff includes physicians, dentists, dental hygienists, nurse practitioners, nurses, pharmacists, and a social worker, as well as administrative, maintenance, and reception staff. However, the work of the clinic would not be possible without its volunteers, who numbered 207 in 2006. The total value of volunteer services provided was valued at $347,736 for that year.
Most impressively, the clinic's reputation is such that it has not needed actively to recruit volunteers. Most volunteers come from local churches, having read about Lackey's work in their church bulletins. Other individuals stay as volunteers after having completed medical internships there. Still others are former patients or know someone who has been served by the clinic. Though they arrive by many roads, they all contribute to a single mission: in the words of Executive Director Kay Bradley, "to make our clinic a haven of hope for those who desperately need quality health care."
One Man's Gratitude
Al Ulitsch, a Vietnam veteran who found himself in need, today shares a story filled with appreciation. He arrived at the clinic almost two years ago with diabetes and high blood pressure; since that time, in his words, he has had a "major overhaul."
Through the Lackey Clinic, Mr. Ulitsch was able to receive a much-needed stress test and subsequent triple bypass surgery with post-surgical care. He receives his prescription medication, valued at $1166 per month, through the Pharmacy Connection. He has also had surgery done on both of his severely arthritic shoulders.
Mr. Ulitsch says, "The people and the care I've gotten at Lackey have been awesome. I had not taken care of myself; I don't smoke or drink anymore, but I did for years and I know that is the reason I am in such bad health today. If Deborah [one of the clinic's nurse practitioners] hadn't arranged for that stress test two years ago, I don't know what would have happened to us."
Thriving and Growing
Dr. Shaw started the Lackey Clinic with no prior experience in medical ministry. Yet, from 150 patient visits its first year, the Lackey Clinic has expanded to 4156 visits in 2006. That year, 16,141 prescriptions were filled, 607 dental procedures were performed, and 298 flu shots were administered. The total value of services provided that year totaled $3,859,228, of which $1,404,770 represents off-site specialty referrals.
The Lackey Clinic, powered by its volunteers and their vision, has grown by leaps and bounds. They are committed to maintaining their momentum. As the population ages and health insurance premiums increase, the need for Lackey's services will swell. Already, more than 159,553 residents qualify for services. For this reason, the clinic has initiated a $2 million capital and endowment campaign. Lackey's recent annual report closed with the statement, "It is heartbreaking to have to turn away a patient waiting in line to see a doctor." The Lackey Clinic staff continues to work for the day when this never has to happen.
About the Author
Marisa DeNoble Loeffler is a freelance science and medical writer and can be reached at 17bicentennial76@gmail.com.
About Angels in Medicine
Angels in Medicine is a volunteer site dedicated to the humanitarians, heroes, angels, and bodhisattvas of medicine. The site features physicians, nurses, physician assistants and other healthcare workers and volunteers who reach people without the resources or opportunities for quality care, such as teens, the poor, the incarcerated, the elderly, or those living in poor or war-torn regions. Read their stories at www.medangel.org.